The state's housing goals would require massive demolition and evictions in SF
If San Francisco is heading to count on non-public for-gain developers to make most of its new cost-effective housing via inclusionary mandates, the amount of new market place-price housing will have to a lot more than triple what state at present involves.
San Francisco won't meet up with the Regional Housing Requires Assessments for cost-effective housing beneath inclusionary policies until builders develop 166,000 new units, 120,000 of them sector-price, in excess of the up coming 8 a long time.
Either that, or the town would have to have to have that 57 percent of all for-profit units are affordable—or fall short to satisfy the lower-conclusion RHNA targets and greatly exceed the range of luxury models, with the profound gentrification and displacement that would ensue.
Which is an impossible selection without radical changes in the city—and equally radical modifications in the housing-finance marketplaces. There is also no way the metropolis could include that substantially luxurious housing without the need of severely devastating current vulnerable neighborhoods.
I obtained these quantities from Mark Verville, a retired economic govt, longtime Santa Monica resident and presently a member of the city's Audit Subcommittee.
He's run the data that I never assume any individual else has run, whilst it is all based on general public records.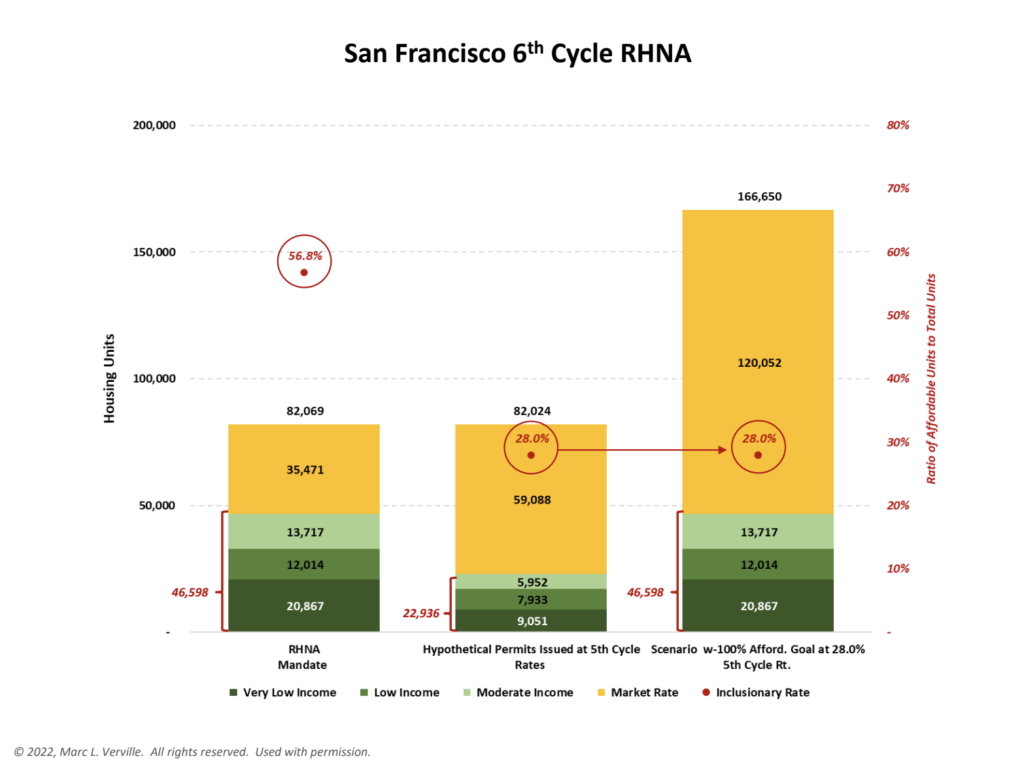 He starts with the notion that San Francisco (and you can apply this design to any California town) necessitates market-level developers to include a specified percentage of reasonably priced units in their assignments. Point out guidelines now permit even much more density if the developer somewhat raises that proportion.
Verville notes that in the past RHNA cycle, 28 p.c the housing built in San Francisco, by all builders, together with nonprofits, was inexpensive.
Then he appears to be like at how a lot of current market-amount models it would choose to get the city to the condition-mandated very affordable quantity.
The math isn't challenging it's just missing from most coverage conversations.
The existing RHNA guidelines mandate that San Francisco authorize 82,069 units of new housing in the up coming eight yrs. Of these, 46,598 have to have to be beneath-marketplace-charge.
The state's regulations involve zero funding for any of that reasonably priced housing. San Francisco would need to have $19 billion to pay back for it, data demonstrates.
But heaps of developer advocates say it's high-quality to allow for far more current market-amount tasks, as prolonged as they include things like some reasonably priced models.
Fine: But at 28 % inexpensive, the town would need 166,000 new units—120,000 of them marketplace-rate—to achieve the RHNA aims. Below that situation, San Francisco would wind up with a lot more than three instances the number of luxurious models than the state suggests we want.
The only way that could possibly occur is if the town permitted wholesale demolition of current neighborhoods, on a scale that would tremendously exceed the redevelopment scandals of the 1950s and 1960s.
And even then, until most of the units were being marketed as investment decision homes and in no way occupied, it's really hard to believe the developers could make sufficient gain on that scale, in that quick a time, that just about anything resembling that degree of construction could actually take place.
The figures never lie: Setting up suitable very affordable housing by allowing new industry-fee housing is not likely to work.
Verville has carried out the calculations for the state as a whole: Assuming 23 % affordabililty, the condition would need to have 6 million new models to fulfill the RHNA economical-housing targets.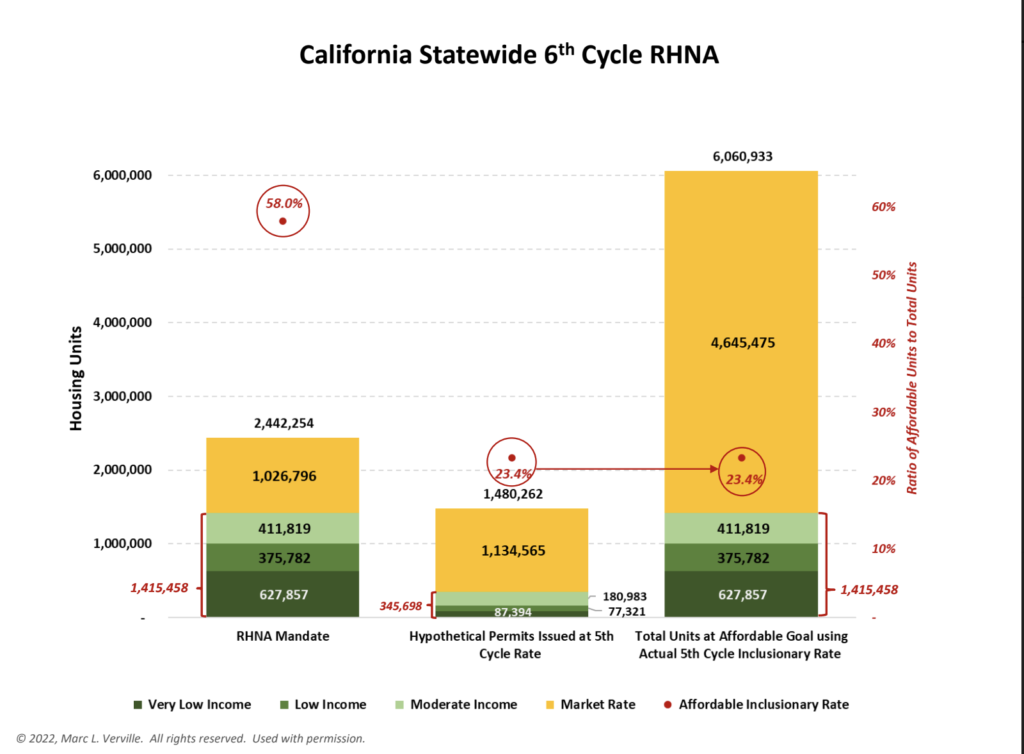 Again: Nobody with any sense believes there is any way this will occur. The condition could eradicate all zoning, repeal CEQA, give builders the inexperienced mild to demolish every little thing, bulldoze neighborhoods, destroy every minimal-profits local community in the state—and nevertheless, we will not see 750,000 new housing models a 12 months.
Then add in the intriguing simple fact that San Francisco, like a whole lot of California cities, has in fact missing population in the past 10 years, specially in the past couple decades, and that the condition is dropping and might proceed to eliminate populace.
Barely anyone talks about demolition when they communicate at the state amount  (and even, to an extent, at the local stage) about RHNA plans. In some areas of the condition, there's some undeveloped vacant land that could be new housing, but in San Francisco, that's rather scarce: Building a little something new in this city pretty much normally indicates having absent something that is already listed here.
There are, in fact, a selection of big a lot that can accommodate housing, like the old Schlage Lock Manufacturing facility on Tunnel Avenue. But there are nowhere in close proximity to sufficient for 166,000 new units.
To achieve that purpose, or even a modest portion of it, will require either demolishing existing industrial house, that delivers blue-collar positions (and in quite a few ways is vital for the functioning of the town) or demolishing current housing.
At a latest supes committee hearing, quite a few board members quite substantially agreed: San Francisco just cannot accommodate the state's mandates with no accepting bulldozers into the neighborhoods.
I experienced a discussion some several years ago with the former head of SPUR, and he advised me that he didn't understand why so a lot of San Franciscans believed structures had been much more significant than men and women that is, why can not we just tear down current properties and make bigger kinds to accommodate a lot more people?
Two flaws listed here: Just one is that much more density doesn't indicate a lot more affordability. If demolishing existing housing was confirmed to make much more affordable housing, it would be a significantly simpler option.
The other: In a housing disaster, the most useful reasonably priced housing is present reasonably priced housing. Persuade demolition, and very before long builders will get started to tear down not just one-family homes on the West Facet of city but 4-unit lease-managed properties with tenants who will have to leave.
We can try to restrict that—but then, as with the Ellis Act and Costa Hawkins, the genuine-estate sector will no doubt get the condition Legislature to make it unattainable for towns to secure current tenants. And the Scott Wieners of the earth, whose insurance policies would make this nightmare, will wring their fingers and say there's almost nothing they can do.
Wiener has mentioned he supports repealing the Ellis Act. That's a safe place simply because he also is aware of it is never ever likely to happen—unless he and the other Democrats in management make it clear that there will be no new developer-pleasant housing payments, none, until cities are authorized to shield their existing susceptible communities.
That is not a thing that any San Francisco agent in Sacramento is declaring correct now.
The true-estate field is one of the a few most impressive forces in the California Legislature (the other two are oil/gas and telecom). Does anybody significantly imagine that tenants will get protection from demolition and eviction? (You read anything at all about ending fracking in California or imposing an oil-severance tax a short while ago)?
The other aspect that is missing from all of this dialogue: Putting a great deal of luxurious housing in susceptible neighborhoods prospects to gentrification and displacement. Even if current residential tenants have rent management, industrial areas don't (again, Sacramento: The point out bans cities from imposing business lease handle).
You set a bunch of wealthy men and women in a minimal-profits neighborhood and they will want fancier espresso and fancier places to eat and clothes suppliers, and soon the current spots that provide low-priced fare will be long gone. Then residential landlords will see home values climbing and possibly promote or try out to get rid of their tenants … it is a vintage cycle, and it's been properly-documented more than numerous decades.
You simply cannot place 120,000 new luxurious housing units in San Francisco without having building large displacement—not unless the state Legislature presents the metropolis the ability to shield residential and business tenants, and which is not component of the offer.
The message from the data is distinct: Both the RHNA goals, and the legislation guiding them, are absolutely faulty and extremely hard, and the folks who promoted them are delusional … or the state is heading to need to have to set up pretty huge sums of revenue for reasonably priced housing … or this entire RHNA system is a scam to allow extra for-gain genuine-estate advancement and speculation that will in no way guide to extra cost-effective housing.
You want to just take a guess?