14 Holiday Marketing Ideas For Small Business
To help you get some great holiday marketing ideas, we asked CEOs and marketing leaders to share their best holiday-themed low-cost marketing campaigns.
From creating a holiday social proof campaign with UGC to offering a free gift, there are several examples of top-performing holiday marketing campaigns that may inspire you to create and launch your business's successful holiday marketing ideas.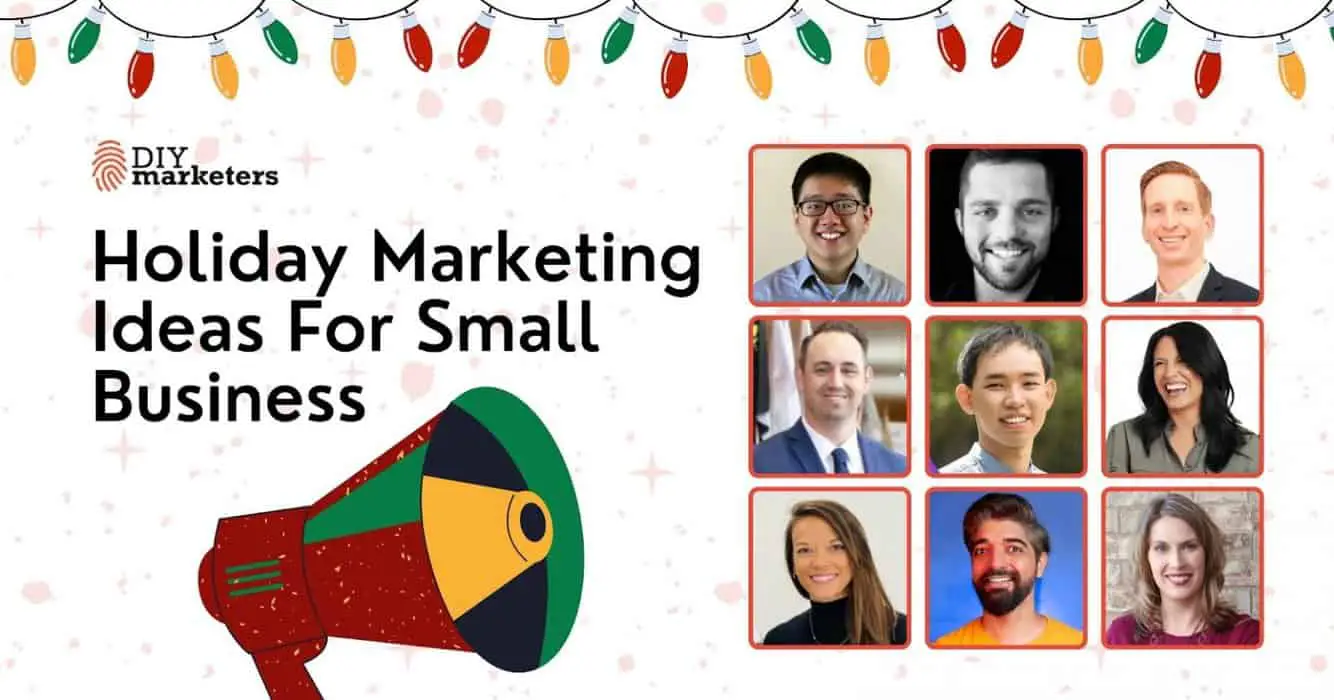 Create a Holiday Social Proof Campaign With User-Generated Content
Automate the collection of user-generated content during the year, and turn it into lucrative holiday "social proof" marketing campaigns. Combining images users have snapped with holiday music and creating inside Canva generates stellar content. Cost savings come because you can direct your content marketing team to manage other tasks while the campaign(s) run.
Brands that don't use "free" content from users are missing out on the trend of searchers preferring proof from those like them. That's why micro-influencer marketing is becoming so popular.
Confirmations that your products or services are of actual benefit to people will lead to more interested parties. These campaigns are also a great way to thank previous customers that supplied images for the collages you put together.
Jerry Han, Chief Marketing Officer, PrizeRebel
Pop-ups Are Perfect for the Holiday Season
While some shoppers are averse to pop-ups, when done right, they can be a powerful marketing tool — especially during the holidays. A well-designed pop-up can create a sense of urgency that encourages shoppers to buy. Plus, they're a great way to show off your holiday decor and attract attention to your physical store.
Pop-ups are especially effective for service-based online businesses because you can target a specific niche. As an online game, pop-ups have helped us reach a huge audience that we otherwise would have missed.
Demi Yilmaz, Co-Founder, Colonist.io
Post Long-form Blog Articles 
Posting long-form blog articles never fails to boost our holiday marketing campaign. It is a part of our content strategy that allows us to talk extensively about topics related to our area of expertise. When the holidays approach, we post listicles and tips that give readers an idea of where our services could be needed.
Optimizing long-form blog articles through the right keywords and social media strategy could improve our brand's visibility and reach our market.
Abe Breuer, CEO, VIP To Go
Play Up The New Year Self-improvement Trend
We've all heard the adage, "New year, new me!" The holidays are a time when people are placing a renewed focus on self-improvement. In our industry, we help people achieve optimal health and wellness, so we play up the longevity and vitality our product offers.
However, this can be done in any industry. When planning holiday marketing, businesses must analyze how their products and services contribute to a higher quality of life and emphasize those aspects in their messaging.
Stephanie Venn-Watson, Co-Founder, fatty15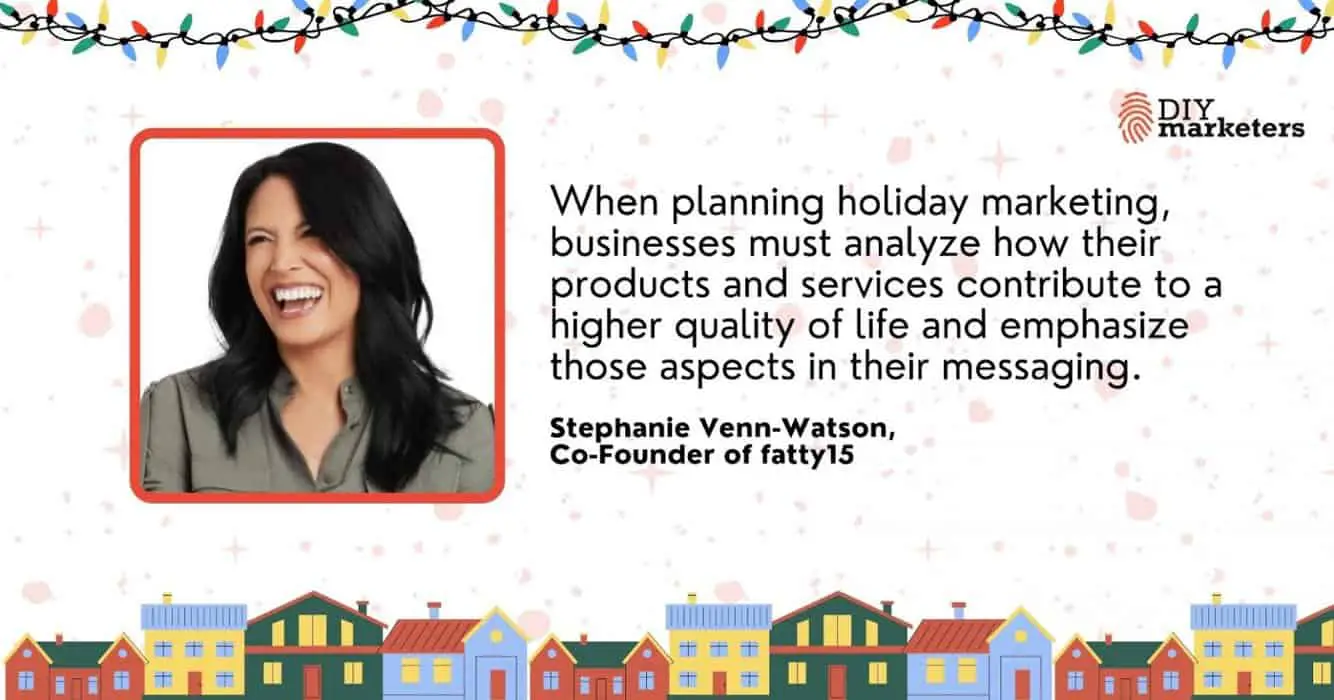 Create Festive Content and Using Hashtags
One of my favorite holiday marketing ideas that small businesses can use to great effect during the holidays is social media. By creating festive content and using hashtags, businesses can reach a wide audience and encourage customers to get involved.
For example, last year my business ran a social media campaign with the hashtag #12DaysOfChristmas. We posted different holiday-themed content each day, and customers were encouraged to share their own experiences with the hashtag. The campaign was a great success, helping us to connect with potential customers and build brand awareness.
Jim Campbell, Founder, Wizve Digital Marketing
Extend Your Holidays Campaign Offers
There are many reasons why shoppers shy away from last-minute shopping like not getting exclusive offers or discounts etc. To catch these shoppers, many brands step up their holiday marketing campaign offers.
The biggest concern of last-minute shopping is whether the gift will arrive on time or not. Overcome their worries and win them over by guaranteeing them on-time delivery. Plus, by extending your holiday campaign offer, you can gain customers' trust and new subscribers as well.
Max Whiteside, SEO & Content Lead, Breaking Muscle
Offer Tiered (and Sharable) Discount Codes Based on Customer Loyalty 
A campaign that costs us nothing but time, and promotes loyalty, will start after our Black Friday and Cyber Monday sales. We write personalized emails with tiered discount codes to our customer base. Depending on how frequently they shop with us, they get up to 35% off of their holiday purchase.
We also encourage them to share their codes with friends to acquire some new customers. It's a great way to engage with them, and make one last push before the end of the year.
Robert Burns, Chief Marketing Officer, Nuleev
Offer Expert Advice 
I think this is the best holiday marketing campaign I've heard of. It's for a heating and air conditioning company, and it's called "HVAC 101." It sounds incredibly simple, but it's very effective.
The idea is that they'll give you a coupon for $50 off your next HVAC service if you call them up with your questions about what kind of service you need. The callers are placed in an online call center, where they talk to someone who's been trained to answer questions like "What is an HVAC unit?" and "How do I turn my thermostat down?" The calls are recorded so that you can hear how helpful these people are in explaining things. It sounds like a pretty simple idea, but it works well!
People love being able to get expert advice on things they don't understand—it can be hard to know what to do when it comes to home maintenance! So this campaign allows people to get more help without having to spend any money on the help itself.
Brian Clark, Founder, United Medical Education
Host a Holiday Referral Contest 
We held a holiday-themed referral contest on Christmastime last year, and it was a hit. This was our most successful holiday marketing campaign because everyone loves freebies all year round, but especially during Christmas. The customer that had the most referrals won a prize.
The mechanics were simple for this one. Participants had to like our page, share our post, and tag as many of their friends on our referral contest posts. This garnered us engagement, increased website traffic, and a lot of leads.
Josh Tyler, CEO, Tell Me Best
Run Giveaways On Social Media Channels
Giveaways are the cheapest ways to engage with your followers, gain new followers and build hype for an upcoming event. Basically, asking followers for likes, comments, shares, etc. is a good way to engage even more audiences on your giveaway.
Brands offer giveaways to create more interest in various products or services' sales. By using giveaways and promotional contests, you can increase the target audience's excitement for the holidays and your brand. Which helps you to increase potential customers. Additionally, you can use different social media platforms, such as Facebook, Instagram, and LinkedIn, for arranging giveaways and contests.
Zephyr Chan, Founder and growth marketer, Living The Good Life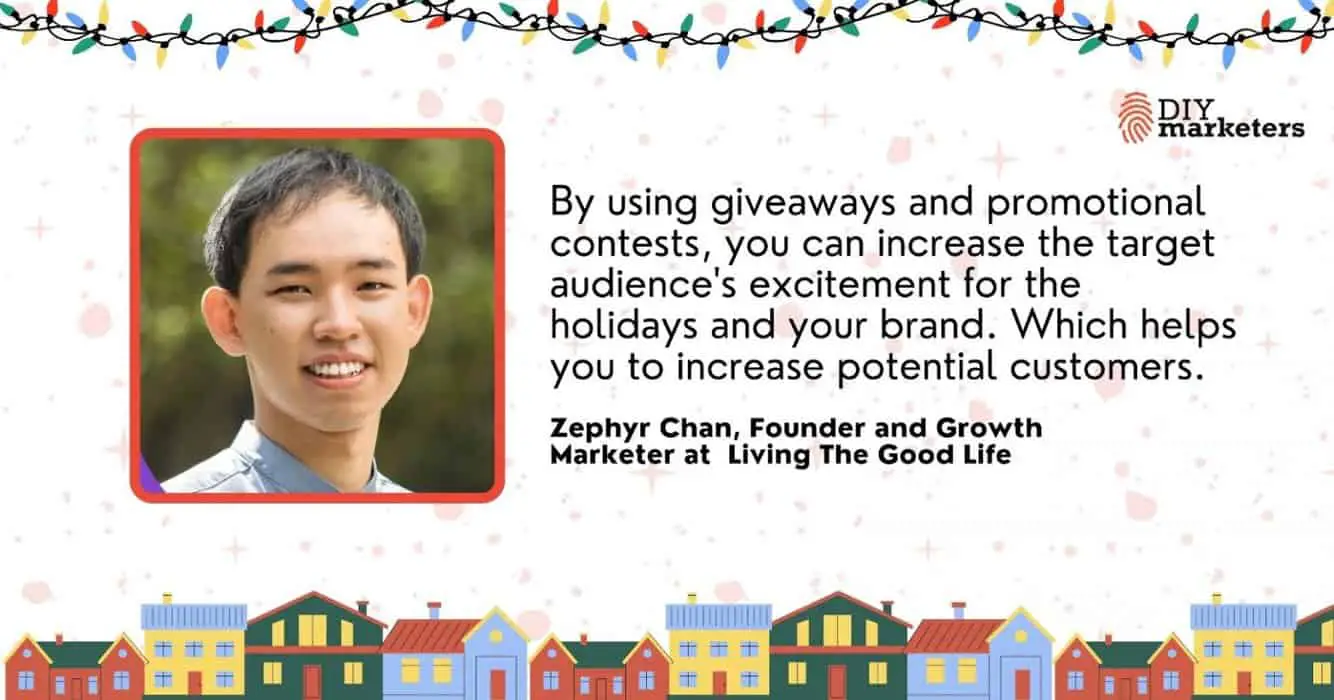 Think How Your Product Can Fit a Holiday Theme 
When people dress up as ghosts (or Roman emperors or John Belushi in Animal House) for Halloween, they often think of donning white sheets.
That conjured an idea. A couple of weeks before Halloween, we took to social media and offered 20% off some of our selections of bedding sets. We provided a Halloween-themed discount code (PUMPKIN20) and it gave us a boost. It was just another random brainstorming idea that raised our profile and elicited more sales.
Emily Saunders, Chief Revenue Officer, eLuxury
Send Out a Black Friday Email Blast
One campaign that blew the roof off for me was a campaign I did last year about 4 days before Thanksgiving. I was part of an email blast promoting a Black Friday sale from a large national chain. "Black Friday Starts Now!" was the subject line of the email. That subject line generated way more clicks than any of the other emails in the promotion.
My clients were skeptical about doing a Black Friday promotion, but the sales were so good that it more than made up for any reservations they had about it. The campaign generated hundreds of sales and raised my client's revenue by thousands of dollars in less than a week.
Graham Byers, Founder, Bestchoiceforseniors
Offer Holidays Combo Discounts
Discounting every product can reduce your profits. So you should offer discounts after buying combos products. For example, ask your customers, if they purchase two or more products from your brand, and they'll get some discounts on the overall cost.
By doing this, you cannot only capture the attention of your audience, but you can entice them to buy more of your products as well. That will take your sales and revenue to the next level. Therefore, a discount marketing campaign is considered a good way to boost sales during holidays.
Adam Fard, Founder, and CEO, Adam Fard UX Agency
Give Prospects a Taste of Your Business With a Gift
The best holiday campaign that's worked for my business as well as my clients' is to reach out directly to a targeted group of influencers and ask them to promote your free guide or offer.
People are already in the gift-giving mindset, so when you offer a free gift, they feel like you care about helping them. The holiday season is about giving and generosity, so when you offer something as a gift, you automatically position your business as being humble yet abundant.
Not sure what to offer for free? Start with the end result, your paid product or service, and ask yourself what the first step would be that a prospect would take toward your paid product or service. Offer that initial step for free, and you're well on your way to having more paying customers this holiday season!
Jaime Ellithorpe, Founder & Business Growth Consultant, 540 Strategies
FAQs About Holiday Marketing Ideas
Here are some questions and answers about holiday marketing ideas you may not have thought to ask – but I'm going to answer anyway.
What is the best form of marketing for the holidays?
The best holiday marketing idea is one that shows your customers you really "get" them and understand them and connecting that act of service with your brand. Create a sort of Venn Diagram where you create a list of things that your customers would LOVE to get on the one side and a list of things that you'd love to give. Somewhere in there will be several great holiday marketing ideas.
How do you DO holiday marketing?
The best holiday marketing ideas come from the experiences that you create for your customers. This doesn't have to be some fancy Black Friday deal or offer, it can be a simple act of generosity and surprise that creates the "delight" factor you're after.
I always like to say that marketing is about BEING and not doing. You don't need to spend a lot of money, you just need to give customers a little more of something that they aren't getting anywhere else. This could be as simple as wearing holiday hats and simply SMILING and greeting customers as if you're actually happy to see them – being helpful – making their interaction with you something special.
What's Have Been Your Most Successful Holiday Marketing Ideas?
I'm collecting successful holiday marketing ideas, so if you've got one, please share it!